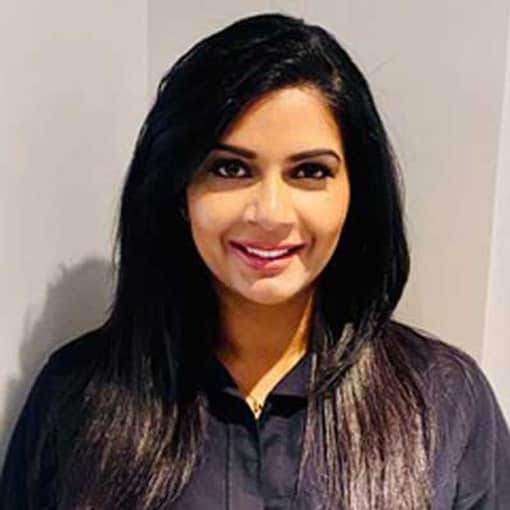 Nazeema Kassam
Registered Social Worker and an accredited Family Mediator
Accredited Expertise: Nazeema is a Registered Social Worker and accredited family mediator with 15 years of diverse clinical experience.
Holistic Counselling: Uses a mix of cognitive-behavioral, emotional-focused therapy, mindfulness, and Gottman couples counselling to address your individual and couples' needs.
Specialized in Family Issues: Extensive experience in family separations, divorce, and mediation services for couples and families undergoing separation or divorce.
Safe and Inclusive Environment: Committed to fostering a space that promotes equality, inclusion, and diversity, ensuring you feel liberated to explore your emotional challenges.
Unlock Hope and Healing with a Complimentary 20-Minute Phone Call Consultation
Are you ready to take the first step towards a brighter future? At AERCS, we're here to support you on your path to well-being. Our complimentary intake call is your opportunity to connect with us, confidentially share your journey, and discover the transformative support we offer. By taking this call, you're not just talking; you're taking control of your well-being, paving the way for tailored therapy that can change your life. Don't wait—book your call today and embrace the healing journey that awaits you.
Nazeema Kassam​ helps her clients crack depression.
Nazeema Kassam is a Registered Social Worker and an accredited family mediator with the Ontario Association of Family Mediation. She holds a Masters of Social Work degree from Columbia University in New York.
Nazeema Kassam has fifteen years of social work experience in various clinical settings. Her resume includes service at healthcare facilities, schools, rehabilitation clinics, community organizations, and her own private practice and multi-disciplinary clinics. As a clinical social worker, she uses many different modalities when providing counselling to individuals and couples. Her tool kit includes: cognitive-behavioral, emotional focused therapy, mindfulness, Gottman couples counselling, narrative and solution-focused approaches.
Additionally, she has worked in the motor vehicle sector, conducting social work assessment, providing case management services, counselling, and life skills training to patients who sustained catastrophic injuries, and have mental health issues.
Finally, she's a clinician with extensive experience working with family separations, divorce, and mental health counselling. She provides mediation services to couples and families who are going through a separation or divorce.
Nazeema Kassam works with individuals, couples, and families to meet their goals and to overcome the barriers preventing them from living healthier lives. Nazeema believes in empowering and drawing-on the positivity from one's life.
Nazeema makes a safe environment.
Nazeema's experience in various roles has given her the opportunity to work with individuals of diverse backgrounds and to recognize and respect people of different origins with very different life experiences. Nazeema remains committed in her therapeutic practice to fostering a safe environment which promotes equality, inclusion, and diversity. It's her foremost objective to make a safe space where people feel liberated and are free to explore their vulnerabilities and emotional burdens.
Nazeema promotes honesty and trust.
Nazeema believes emotional honesty is key to owning our stories and being able to verbalize the impact of our lived experiences. Learning to accept how we feel can empower us and show us how to feel better. Nazeema empowers her clients to make courageous decisions by finding hope, healing, and change.
Nazeema works to meet her clients where they are, fostering a relationship that allows for the creation of a deep connection and collaborative space where possibilities can be explored, and change can happen.
Give Us a Call...
Get In touch.
Ask Any Question.

AERCs Orangeville Location
873209 5 Line E, Orangeville, ON L9W 6A4
AERCs Toronto Location
1849 Yonge St, Floor 1, Suite 914, Toronto, ON M4S 1Y2
AERCs Mississauga Location
89 Queensway W #226, Mississauga, ON L5B 2V2